News and Events
The UAE Real Estate's current state and future: top trend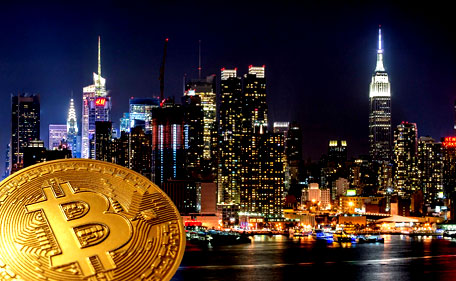 Market growth within the property sector is occurring. Although reports are being taken with a critical eye, today is nevertheless the time to highlight the key trend for the next days, months and years for buyers and investors.
To attract clients, payment flexibility has been long used. But, one of the huge changes that you will be experiencing in the future is the use of cryptocurrency such as Bitcoin to buy, sell or rent real estate.
It has been announced and reported by a number of developers and companies that residences, such as Dubai Sciences can be bought using digital currency, since September last year. Fuel has since been added to fire by offering up to 7% discount to client who buy properties trough Bitcoin or other cryptocurencies. However, the process is largely unregulated with local banks resistant to accept payment or allow payments to and from crypto exchanges.
This trend shows us that leaders in the real estate industry are now thinking laterally to stimulate the market. Bitcoin is big news and crypto-investors are out there, but options are still limited for them to spend their wealth. With real estate traditionally proven to be a safe investment, the lure for those with digital money to turn their wealth into tangible assets will be a strong one.
Admittedly, we are still in the early days of this trend. Cryptocurrencies are incredibly volatile, which makes it hard to structure deals and set a value based on something that itself can fluctuate in value so wildly. Yet it is only a matter of time before this trend moves mainstream, with more people becoming wise to the opportunities available.
Director of Bliss International Group wins as Most Promising Young Entrepreneur of the Year Golden Achievement Awards Dubai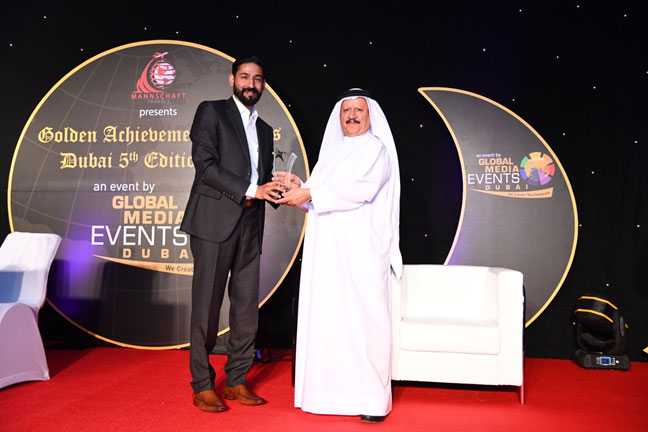 Golden Achievement Awards Dubai 5th Edition-Dubai crowns Vishal Varghese, Director of Bliss International Group as the Most Promising Young Entrepreneur of the Year-2018.
Now in its 5th edition, Global Media Events celebrates the hard work and Inspiring stories of entrepreneurs in Dubai. The entrepreneurs from across Middle East and India came together to celebrate his success at the reputable gala on the 8th of April 2018 held at Le Meridien Dubai Hotel & Conference Center in Dubai.
Technology revolutionizing the hospitality industry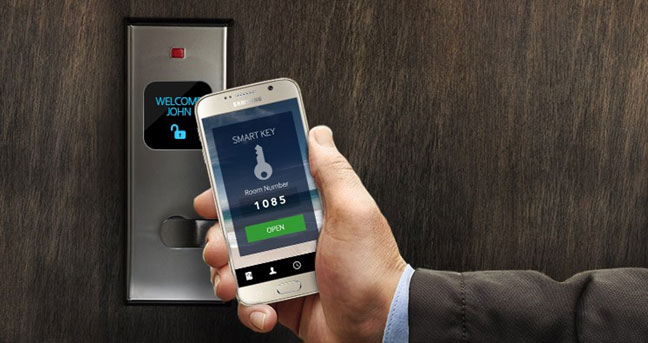 It seems another grand new hotel somewhere in UAE opens every week. A recent report says that above 200 new hospitality and leisure recreation projects are currently under construction across the country, and more than 80 of them are lined up to open during 2018.
It should come as little surprise then to learn that the hospitality industry is among the world's largest and fastest-growing industries. But what many of us forget is that it encompasses much more than just hotels.
Fundamentally, hospitality is the relationship process between a guest and a host. And that relationship has the potential to be greatly enhanced by the numerous emerging technologies that are revolutionizing the industry.
There can be no doubt that technology is becoming the key enabler in hospitality, with third platform technologies such as cloud, isocial, mobile, and big data analytics combining with innovation accelerators like robotics, artificial intelligence, and augmented reality to transform the industry.
The hospitality industry is undergoing unprecedented digital disruption, and the emergence of game-changing technologies is irrevocably altering the very way that business is conducted in the sector. Customer engagement has become one of the key drivers in the hospitality industry, and as a result of the social media explosion, a new breed of confident, empowered, and savvy travelers is emerging.
Technology is also changing the customer experience and providing a way to engage customers at every level of the brand experience - from initial purchase through to the actual consumption of services, and even beyond. One thing for certain is that it is no longer business as usual. The hospitality industry looks a lot different today than it did two years ago, and technology will ensure that it looks just as different again two years from now.
Dubai hotels report higher Occupancy in January 2018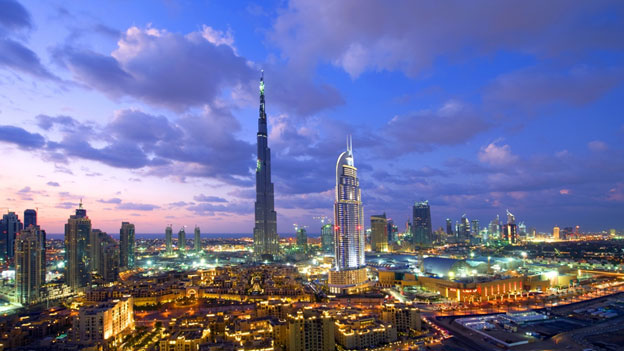 According to preliminary STR data, hotels in Dubai, United Arab Emirates, reported occupancy-driven performance growth.
In January 2018, the data shows that, occupancy rose 1.5% to 86.4%, RevPAR increased 1% to AED 703.89 ($191.67) and RevPAR increased 1% to AED 703.89 ($191.67).
Both supply and demand increased in comparisons to last year, with supply up by 3.6% and demand increasing by 5.5%.
High demand was enough to outpace somewhat slowing supply growth and push a positive occupancy comparison, reported STR. As a result, Dubai saw its first January increase in RevPAR since 2014. STR analysts note the year-over-year change in supply would be the lowest for any month since November 2012.
Additionally, demand growth was also pushed by a fast-rebounding Russia source market, especially in beachfront properties.
Middle East and North America Hotel investments to hit record high in 2018
Due to be awarded next year, value of hotels could exceed US$14bn, according to MEED Projects, partner of AHIC 2018 Significant opportunities for hotel investors targeting the Middle East is forcasted by the Arabian Hotel Investment Conference 2018 (AHIC) considering the new data from MEED Projects, which predicts that more than US$14bn worth of hotel construction contracts will be awarded in 2018.

Ed James, Director of Content and Analysis at MEED Projects, said: "After a relatively subdued 2017 up to end of November which has seen US$5.45bn worth of new hotel construction contracts awarded, the value of hotels due to be awarded next year is more than US$14bn. This total would comfortably exceed the US$8.5bn awarded in 2016 and the previous record of US$11.9bn awarded in 2015."

James added: "On the back of its forecasted performance, investment in hotels will comprise about 7 per cent of the total US$200bn scheduled projects spending in the MENA region next year, making it one of the most important construction subsectors. On a country basis, the UAE will be by far the largest market, with an expected US$8.4bn worth of contracts, followed by Saudi Arabia at US$1.9bn and Qatar at US$1.7bn."

All these numbers will be discussed at the 14th edition of AHIC, which will be held from 17-19 April 2018 at the purpose-built AHIC Village in the grounds of the Waldorf Astoria Ras Al Khaimah, UAE, in partnership with Ras Al Khaimah Tourism Development Authority (RAKTDA).
Nakheel's Hospitality Divion will build Nine Hotels in next five years
Nakheel unveiled plans for its new hospitality and leisure division during the fifth Annual Resort Development and Hosptiality Conference which concluded recently at Softitel the Palm Resort and Spa on Jumeriah.
Dubai hotel guests hit 11m as tourism strategy gets results
Hotels in Dubai attracted 11 million guest in 2013 , 10.16 percent increase (more than one million guests) over 2012, Dubai's department of Tourism and Conference Meeting (DTCM) said in a statement yesterday.
Deyaar launches The Atria in Business Bay
Deyaar Development has launched The Atria, a luxury project featuring serviced apartments and residential units in Business Bay. The Atria markes Deyaar's foray into the hospitality sector and is part of company's goal to develop a total of 1 million sq.feet of land into hospitality properties.
Ifa to build Dhlb resort project on Palm Jumeirah
The Palm Jumeirah continues to be a market leader in property value retention and rental yield. Although 45,000 new residential units are scheduled for completion in Dubai by the end of 2015, only a 4 percent of these are on the island.
Welcome to Palazzo Versace Dubai - high profile , fashion-branded hotel
It is the second Versace Luxury Property in the World with 215 luxury hotel rooms and 169 spacious residences.. Located in a spectacular Waterfront setting, Palazzo Versace Dubai is an Ultra Luxury Hotel and residential resort. This project will be completed by the end of this year.
Nakheel's retail project sells fast
Nakheel announces 160 bookings by restaurants and retailers at new malls and community centers it is developing . More than 70 percent of retail space at Nakheel's 10,000 sq-m community centre at Al Furjan. which was launched for lease less than 2 weeks ago is already taken, while 55 percent of its International Neighbourhood mall is booked.
The Palm Tower Residences launched
Nakheel has launched The Palm Tower Residences - 504 luxury units housed in Nakheel's new,50- storey landmark development on Palm Jumeirah. According to a statement prices starts from Dh 1.5 million. The Palm Tower includes a mixture of serviced, fully furnished studios and one, two and three bedroom apartments with uninterrupted panoramic view of Palm Jumeriah.
Hongkong group buys Dh 6.8 b asstes in Dubai Pearl
Pearl Dubai has sold prime property assets valued at $1.9 billion in its 20 - million sqr-ft Dubai Pearl development Project to the Hong Kong based Chow Tai Fook Endowment Industry Investment Development Group.
Dubai's home sales and rents continue to rise
Average residential sales prices in Dubai were up 60 percent year-on-year in the fourth qauerter with quality residential developments amoung the top performers according to a report by Asteco Property management. Dubai's leasing market was no less impressive, with an average increase in apartment and villa rental values of close to 50 per cent and 20 per cent respectively.
$1.5 billion hotel, other mega projects to grace Dubai
Shaikh Mohammed hails the Investment Corporation of Dubai projects which will boost national economy.
His Highness Shaikh Mohammed bin Rashid Al Maktoum, Vice-President and Prime Minister of the UAE and Ruler of Dubai, has given the go-ahead for a number of ambitious development projects by the Investment Corporation of Dubai (ICD) over the coming three years. After completion, the projects would contribute 10 per cent to the national economy.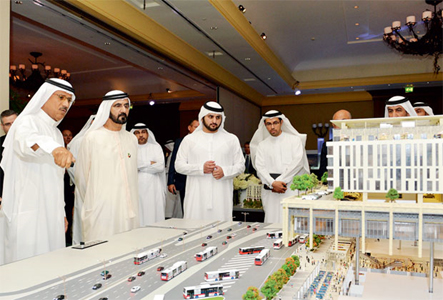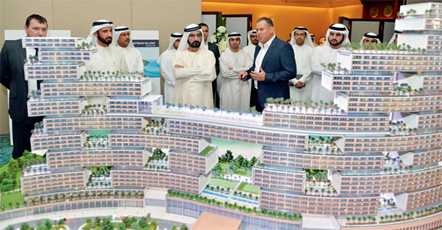 Praising the projects, Shaikh Mohammed gave directives that the projects be completed by 2018.
Shaikh Mohammed examined the model of Royal Atlantis Resort, to be built on Palm island in Dubai. Consisting of 800 rooms, suites and 250 luxurious hotel apartments, the Royal Atlantis Resort will cost approximately $1.5 billion. The project will also house recreational, entertainment and services facilities built to the highest international standards.
In his briefing, Al Shaibani said the first phase of the Dh8 billion Dubai Waterfront mixed-use project is expected to be completed by end of 2016. The first three phases of the project will spread on an area of approximately 820,000 square metres and will include parking lots for 6,000 vehicles.
Shaikh Mohammed was also briefed on the One Zaabeel project which will be located between the Dubai World Trade Centre and Zaabeel Park and will consist of two towers (residential and commercial) linked by a suspended bridge. One Zaabeel will have an approximate cost tag of Dh2.5 billion and will include 550 residential units, two hotels and 130 hotel apartments.
Dubai Expo 2020 plans reviewed
The Higher Committee for Dubai Expo 2020 reviewed on Monday the progress on the master-planning and development of the exposition site.

Shaikh Ahmed bin Saeed Al Maktoum, Chairman of the Expo 2020 Higher Committee, President of the Dubai Civil Aviation Authority, Chairman of Emirates airline and Chief Executive of the Emirates Group, chaired the meeting, which was held in the presence of Mohammed Ibrahim Al Shaibani, Vice-Chairman of the Committee and Director-General of the Dubai Ruler's Court, and other Dubai Expo 2020 Higher Committee members. Construction works at the 438-hectare Dubai Trade Centre-Jebel Ali host venue will begin after November 2015 following the approval by the Bureau of International Expositions, or BIE, the governing body of the World Expo.

Site readiness activity is currently underway at the site.

Last month, a consortium made up of HOK, the US-based lead architects and urban planners, and Arup, infrastructure experts and engineering partners, was given the design and master planning work.

The expansive Dubai Trade Centre-Jebel Ali complex features a centrepiece Dubai Expo 2020 gated facility spread across 150 hectares and a surrounding residential, hospitality and logistics zone. The exhibition site is designed to accommodate up to 300,000 visitors at peak time, with average week-day attendance expected at 153,000.

At the meeting, Reem Ibrahim Al Hashemi, UAE Minister of State, Managing Director of the Dubai Expo 2020 Higher Committee and Director-General of the Dubai Expo 2020 Office, presented a detailed update on the setup and operations of the Dubai Expo 2020 Office to the committee.

Higher Committee Member Helal Saeed Al Marri, Director-General of the Department of Tourism and Commerce Marketing and chief executive officer of the Dubai World Trade Centre, presented progress on the master-planning and development of the site for the Dubai Expo 2020.
Dubai hospitality sector a hit with global players
Dubai's hotels welcomed more than 11 million guests in 2013 - an increase of just over one million on 2012 figures and an indication that Dubai is on track to achieve its 2020 visitor target.

Dubai's ambitious growth strategy for its hospitality sector is proving to be a big draw among international players and the Dubai Investment Development Agency, or Dubai FDI, in the Department of Economic Development, in collaboration with foremost company formation specialists The Links Group, is simultaneously making a strong bid to bring more global operators into the emirate.

With Dubai expecting to attract 20 million tourists by the end of the decade, according to the emirate's Tourism Vision for 2020, investment in hospitality infrastructure and services is a top priority for the government. Dubai's hotels welcomed more than 11 million guests in 2013 - an increase of just over one million on 2012 figures and an indication that Dubai is on track to achieve its 2020 visitor target.

"The hospitality sector in Dubai is set to experience a massive boom, with more than 24,000 hotels and serviced apartments expected to enter the market in the next three years. Coupled by our successful bid to host Expo 2020, Dubai is becoming an increasingly attractive investment destination for foreign hospitality companies. It is important we continue to evaluate and evolve commercial activity in the sector in order to attract the most innovative companies to the emirate," said Fahad Al Gergawi, chief executive officer of Dubai FDI.
Browse